Lokye & Akhil Sesh Link on "Enterprise" to Give You a Whiff of the Podium
Follow me on Twitter:
@ArmandTSparks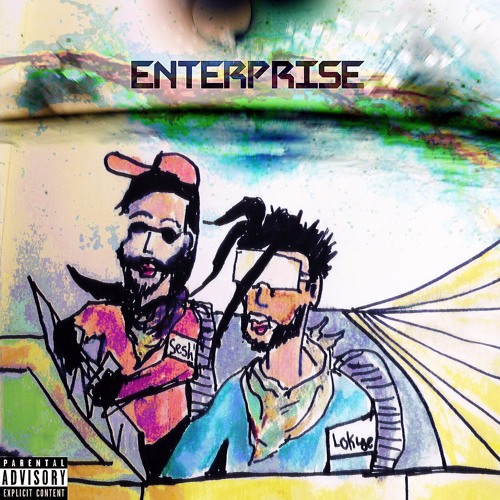 Lokye
and
Akhil Sesh
should be widening the gap between them and anyone who finds themselves in their lane of music. Their latest release,
Enterprise
(prod. by
DustyFingerz
), sounds tailor-made to agitate people in a chrome post-apocalyptic battle arena.
Enterprise is teetering in rock and rap, but we know which side is more weighted. DustyFingerz's production opens with slug curling synth horn keys with plenty reverb to amp tensions up. Distant rumblings of a bass drum, eyebrow raising hi-hats and tight singular snare pops sound lifted from a live kit, filling the sound with a soot texture. While this sound bridges in-and-out, it's the beat drop that sets the music in motion. Hissing 808s rhythmically tick along stingy kicks and a pounding bass. Enterprise's sound creates an easy pocket for Lokye and Akhil to sew their strings of disorder in order to build their enterprise.
Sesh's verse starts at a dirt level and moves to the podium of the arena. He raps his master plans as if he was trying to convert your wife into a fan through the unwavering confidence in his cadence. Sesh's auto-tuned melodic verse flows nicely with the percussion on the track, giving his delivery a bit of extra sting. I like it. And I like how Lokye's verse has a protective cadence applied to what he's earned. The Enterprise creator sounds like he raps through his teeth, always with a hint of aggression on his shoulder. These raps make me wanna stay on my grind, forever working like I have to catch-up even if I'm ahead. Enterprise is a cold listen. It's dope to bump and get nuts to, if anything.
Listen to Enterprise below.
Lead Photo Cred: soundcloud.com