Childish Major is Just Tryna Survive on His Unforgiving Cut - "Mad Hatter"
Follow me on Twitter:
@ArmandTSparks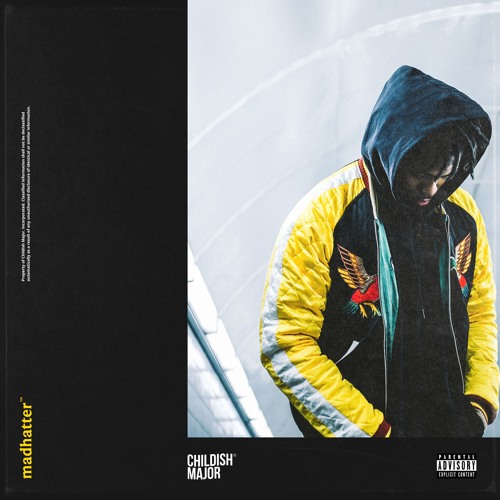 You may not know the name but you likely know the production,
Childish Major
produced on
4 Your Eyez Only
for J. Cole's story driven LP by the same name. To produce for Cole isn't light work and I've been a fan ever since. Major's latest cut,
Mad Hatter
, checked me right back into why I have been.
Mad Hatter is stressed solo thoughts expelled as smooth raps and a smoother beat to boot. Childish Major's production skillfully sounds like it's reached one of life's unavoidable impasses. If my ears aren't deceiving me, his drums are sampled from Bill Withers'
Use Me
. The drum's tempo on Mad Hatter is incredibly slow. The clicky pockets and double kicks accentuate a dragging motion. I love the use of the sample because the drums are otherwise sampled for feel good soul or funk channeling records in hip-hop. The beat's distorted underwater yell sound reverberates in the background along with mewling chords and soft-hued horns. The production is life, literally. Major's music is unforgiving. And Childish Major doesn't let up on the responsibilities and worries life is equipped with.
Childish's raps ride in an exhausted cadence. His flow buddies up to the drums, taking their punches on the chin. His lyrics document mere everyday worries -- how to get the rent paid, trying to eat, contemplating quitting dream capturing for the reliance of a 9-5. That opening line, "
Wish I could reminisce like Noname"
I relate to in more ways than one. He uses life as a metaphor throughout his verses. His hints of melancholy melodies model Mad Hatter's hook as claustrophobic, and life's the container.
Childish Major makes this track stem from a real place. Everyone can relate to this cut on some level. We all wish we had x-y-z to keep us surviving -- this is what that sounds like.
Listen to Mad Hatter below.
Lead Photo Cred: soundcloud.com