A Song You Shouldn't Go a Day Without: Earl St. Clair - "Feeling Alive"
Follow me on Twitter:
@ArmandTSparks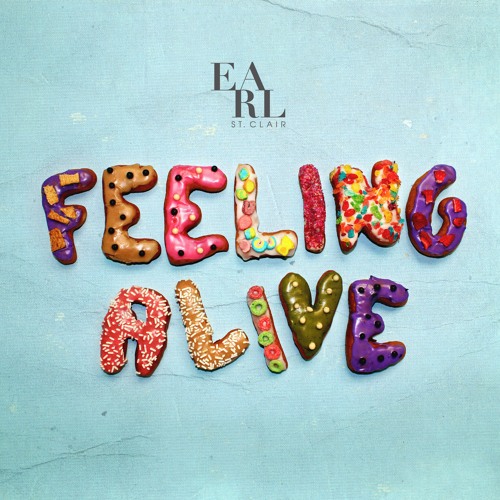 An overwhelmingly great song bites you as if it's a parasite. Special music is created by few, because many aren't bold enough to create against the grain of the "poppin' style" in today's musical climate. But when you know you've heard it -- it's electric.
Vocalist and songwriter
Earl St. Clair
's newest song,
Feeling Alive
, is my electricity. Feeling Alive sounds like a few eras of Rock & Roll and Rhythm & Blues that were presumed dead or missing, and there are also licks of country roots reminding me of yet another black artist who can do it all.
Feeling Alive's welcoming bassline is groovin' extremely oily. The thuds in relation to the deepness of their sound evokes a closeness to Rage Against The Machine's
Bombtrack
in my opinion. Echoing claps catch the rhythm, hyping up something special that's about to come. A worker's boot stomping bass enforces Earl St. Clair's rough bellows to sweet croons. The production behind his voice sounds acutely lady killer. Then the beat legitimately drops and sonically it's off to the sock hop.
A full hopping drum set equipped with loud ricocheting drums goes wild. The snare stands out to me. A glittery tambourine can be heard shaking in rhythm for a shoulder rock, while campfire guitar chords glue feelings of love and youth together. His lyrics do the same, singing about trust and tapping into that fearful leap towards love. But once love swarms you and that chorus rolls around it's cause to celebrate. Earl's vocals sound tailored for dancing. St. Clair's shout out to a crowd style, along with the shiny trumpets hit like a call and react. There's no possible way to stay off your feet listening to Feeling Alive. I love everything musically. The winking fiddles being the most shocking.
When I hear Earl St. Clair's voice on this song I hear that seasoned sound of life needed to pull a style like this off. He can hit that gruff for moments of blues woes, yet still give an excited screech to get the fans elated. Feeling Alive sounds new old and feels older. I fully recommend anyone to give this song a try. If you're looking for something different, look no further. You will find it with Feeling Alive.
Listen to Feeling Alive below.
Lead Photo Cred: soundcloud.com